Hipótese do inicialismo: o inibidor da síntese de giberelina pode aumentar a habilidade competitiva da aveia? - DOI:10.5039/agraria.v14i1a5614
Resumo
A hipótese do inicialismo propõe que a giberelina esteja envolvida na cascata de eventos que desencadeia o impacto de plantas daninhas no desenvolvimento inicial da cultura. Os objetivos desta pesquisa foram demonstrar as diferenças na capacidade competitiva de dois cultivares de aveia (Avena sativa) e para testar a hipótese de que inibidores de giberelina podem aumentar o rendimento de grãos de aveia sob limitada densidade de plantas daninhas de azevém (Lolium multiflorum). Dois experimentos de séries substitutivas foram conduzidos em casa de vegetação para avaliar duas cultivares de aveia (URS Brava (alta estatura) e URS Taura (baixa estatura)) em convivência com azevém. Adicionalmente, dois experimentos de campo do tipo série aditiva foram conduzidos utilizando arranjo de tratamentos fatorial com as cultivares URS Brava e outro com URS Taura. O primeiro fator consistiu de níveis de inibidor de giberelina (trinexapac-ehtyl no 0 e 37,5 mL ha-1) e o segundo fator foi a densidade de azevém (variando de 0 a 21 plantas m-2). No experimento de série substitutiva evidenciou-se que a capacidade competitiva das plantas de aveia é superior às de azevém. Produção de grãos de aveia 'Brava' tratada com giberelina aumentou em densidades de azevém. Esta é a primeira evidência experimental de que o inibidor de giberelina pode evitar perdas no rendimento de grãos causados por plantas daninhas.
Palavras-chave
Avena sativa; produtividade da cultura; processos dependente-densidade; Lolium multiflorum
Referências
Almeida, M. L.; Mundstock, C. M. Oat tillering affected by light quality, in plants under competition. Ciência Rural, v.31, n.3, p.393-400, 2001. https://doi.org/10.1590/S0103-84782001000300005.
Borlaug, N. E. Sixty-two years of fighting hunger: personal recollections. Euphytica, v.157, n.3, p.287-297, 2007. https://doi.org/10.1007/s10681-007-9480-9.
Casal, J.J.; Smith, H. Persistent effects of changes in phytochrome status on internode growth in light-grown mustard: occurrence, kinectics and locus of perception. Planta, v.75, n.2, p.214-220, 1988. https://doi.org/10.1007/BF00392430.
Cousens, R.; O'neill, M. Density dependence of replacement series experiments. Oikos, v.66, n.2, p.347-352, 1993. https://doi.org/10.2307/3544824.
Gal, J.; Afifi, M.; Lee, E.; Lukens, L.; Swanton, C.J. Detection of Neighboring Weeds Alters Soybean Seedling Roots and Nodulation. Weed Science, v.63, n.4, p.888-900, 2015. https://doi.org/10.1614/WS-D-15-00039.1.
Hassanali, A.; Herren, H.; Khazan, Z. R.; Pickett, J. A.; Woodcock, C. M. Integrated pest management: The push-pull approach for controlling insect pests and weeds of cereals, and its potential for other agricultural systems including animal husbandry. Philosophical Transactions of the Royal Society of London, v.363, n.1491, p.611-621, 2008. https://doi.org/10.1098/rstb.2007.2173.
Hawerroth, M. C.; Silva, J. A. G.; Souza, C. A.; Oliveira, A. C.; Luche, H. S.; Zimmer, C. M.; Hawerroth, F. J.; Schiavo, J; Sponchiado, J. C. Redução do acamamento em aveia‑branca com uso do regulador de crescimento etil‑trinexapac. Pesquisa Agropecuária Brasileira, Brasília, v. 50, n. 2, p. 115-125, 2015. https://doi.org/10.1590/S0100-204X2015000200003.
Hoffman, M. L.; Buhler, D. D. Utilizing sorghum as a functional model of crop-weed competition. I. establishing a competitive hierarchy. Weed Science, v.50, n.4, p.466-472, 2002. https://doi.org/10.1614/0043-1745(2002)050[0466:USAAFM]2.0.CO;2.
Hooksa, C. R. R. Using marigold (Tagetes spp.) as a cover crop to protect crops from plant-parasitic nematodes. Applied Soil Ecology, v.46, n.3, p.307-320, 2010. https://doi.org/10.1016/j.apsoil.2010.09.005.
Lamego, F. P.; Vidal, R. A.; Burgos, N. R. Competitiveness of ALS inhibitors resistant and susceptible biotypes of Greater Beggarticks (Bidens subalternans). Planta Daninha, v.29, n.1, p.457-464, 2011. https://doi.org/10.1590/S0100-83582011000200024.
Lancashire, P. D.; Bleiholder, H., Boom, V.; Langelüddeke, P.; Stauss, R.; Weber, E.; Witzenberger, A. An uniform decimal code for growth stages of crops and weeds. Annals of Applied Biology, v.119, n.1, p.561–601, 1991. https://doi.org/10.1111/j.1744-7348.1991.tb04895.x.
Lângaro, N. C.; Federizzi, L. C.; Oliveira, A. C.; Riede, C. R.; Almeida, J. L.; Fontaneli, R. S. Cultivares de aveia, qualidade de sementes e implantação da cultura. In: Lângaro, N. C.; Carvalho, I. Q. (Orgs.). Indicações técnicas para a cultura da cultura da aveia. Passo Fundo: Ed. Universidade de Passo Fundo, 2014. p.44-53.
Liebman, M.; Baraibar, B.; Buckley, Y.; Childs, D.; Christensen, S.; Cousens, R.; Eizenberg, H.; Heijting, S.; Loddo, D.; Merotto, A.; Renton, M.; Riemens, M. Ecologically sustainable weed management: How do we get from proof-of-concept to adoption? Ecological Applications, v.26, n.1, p.1352-1369, 2016. https://doi.org/10.1002/15-0995.
Lortie, C. J.; Callaway, R. M. Re-analysis of meta-analysis: support for the stress-gradient hypothesis. Journal of Ecology, v.94, n.1, p.7-16, 2016. https://doi.org/10.1111/j.1365-2745.2005.01066.x.
Lou, X. Y.; Li, X.; Li, A. L.; Li, A. X.; Pu, M. Y.; Shoaib, M.; Liu, D. C.; Sun, J. Z.; Zhang, A. M.; Yang, W. L. Molecular characterization of three gibberellin-insensitive DWARF2 homologous genes in common wheat. Plos One, v.11, n.1, p.1-19, 2016. https://doi.org/10.1371/journal.pone.0157642.
Mckenzie-Gopsill, A. G.; Lee, E.; Lukens, L.; Swanton, C. J. Rapid and early changes in morphology and gene expression in soya bean seedlings emerging in the presence of neighbouring weeds. Weed Research, v.56, n.1, p.267–273, 2016. https://doi.org/10.1111/wre.12207.
Milach, S. C. K.; Rines, H. W.; Phillips, R. L. Plant height components and gibberellic acid response of oat dwarf lines. Crop Science, v.42, n.4, p.1147-1154, 2002. http://doi.org/10.2135/cropsci2002.1147.
Portugal, J. M.; Vidal, R. A. Economic levels of weed injury on crops: concepts, definitions and calculation models. Planta Daninha, v.27, n.4, p.869-877, 2009. https://doi.org/10.1590/S0100-83582009000400026.
Poveda, K.; Kessler, A. New synthesis: plant volatiles as functional cues in intercropping systems. Journal of Chemical Ecology, v.38, n.11, p.1341, 2012. http://doi.org/10.1007/s10886-012-0203-x.
Radosevich, S.R.; Holt, J.S.; Ghersa, C.M. Ecology of weeds and invasive plants: relationship to agriculture and natural resource management. 3.ed. New York: John Wiley & Sons, 2007. 454p.
Rigoli, R. P.; Agostinetto, D.; Vaz da Silva, J. M. B.; Fontana, L. C.; Vargas, L. V. Competitive potential of wheat cultivars as affected by emergence time. Planta Daninha, v.27, n.1, p.41-47, 2009. https://doi.org/10.1590/S0100-83582009000100007.
Schaedler, C. E.; Fleck, N. G.; Agostinetto, D.; Rigoli, R. P.; Dal Magro, T.; Tironi, S. P. Use and relative contributions of at genotypes and management practices to crop competitivity against concurrent plants. Planta Daninha, v.27, p.957-965, 2009. https://doi.org/10.1590/S0100-83582009000500009.
Trezzi, M. M.; Balbinot Jr, A. A.; Benin, G. I.; Debastiani, F.; Patel, F.; Miotto, E. Competitive ability of soybean cultivars with horseweed (Conyza bonariensis). Planta Daninha, v.31, n.3, p.543-550, 2013. https://doi.org/10.1590/S0100-83582013000300006.
Vidal, R. A.; Trezzi, M. M.; Kozlowski, L. A.; Prates, M. V. B.; Cieslik, L. F.; Merotto, A. Initialism as a mechanism of weed interference: can a crop plant be blinded? Planta Daninha, v.30, n.3, p.469-475, 2012. https://doi.org/10.1590/S0100-83582012000300002.
Wanic, M.; Jastrzębska, M.; Kostrzewska, M. K.; Treder, K. Competition between spring barley (Hordeum vulgare L.) and italian ryegrass (Lolium multiflorum Lam.) under different water supply conditions. Acta Agrobotanica, v.66, n.3, p.73-80, 2013. http://doi.org/10.5586/aa.2013.040.
Weiner, J.; Andersen, S. B.; Wille, W. K. M.; Griepentrog, H. W.; Olsen, J. M. Evolutionary Agroecology: the potential for cooperative, high density, weed-suppressing cereals. Evolutionary Applications, v.3, n.1, p.473-479, 2010. https://doi.org/10.1111/j.1752-4571.2010.00144.x.
Weinig, C.; Delph, F. F. Phenotypic plasticity early in life constrains developmental responses later. Evolution, v.55, n.5, p.930-936, 2001. https://doi.org/10.1111/j.0014-3820.2001.tb00610.x.
Wit, M.; Galvão, V. C.; Fankhauser, C. Light-mediated hormonal regulation of plant growth and development. Annual Review Plant Biology, v.67, n.1, p.513–537, 2016. https://doi.org/10.1146/annurev-arplant-043015-112252.
Worthington, M. S.; Reberg-Horton, C.; Brown-Guedira, G.; Murphy, J. P. Morphological traits associated with weed-suppressive ability of winter wheat against italian ryegrass. Crop Science, v.55, n.1 p.50-56, 2015. http://doi.org/10.2135/cropsci2014.02.0149.
Apontamentos
Direitos autorais 2019 Marcus Vinícius Fipke, Ribas Antonio Vidal, Marcelo Teixeira Pacheco, Luiz Carlos Federizzi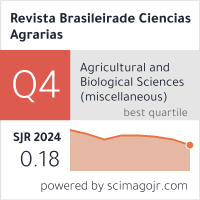 Google Scholar
2018
h5 index: 12
h5 median: 14
Revista Brasileira de Ciências Agrárias (Agrária)
ISSN (ON LINE) 1981-0997
Pró-Reitoria de Pesquisa e Pós-Graduação
Universidade Federal Rural de Pernambuco
Rua Dom Manoel de Medeiros, s/n, Dois Irmãos Recife-Pernambuco-Brasil 52171-900

Todo o conteúdo da Agrária, exceto onde está identificado, está licenciado sob uma licença Creative Commons.