A suplementação com propilenoglicol melhora o metabolismo energético em ovelhas gestantes - DOI:10.5039/agraria.v12i4a5484
Resumo
Objetivou-se avaliar o efeito da inclusão de propilenoglicol (PG) na água de ovelhas gestantes sobre os parâmetros metabólicos energéticos. Foram avaliadas 28 ovelhas gestantes que receberam diferentes níveis de PG na água. Essas ovelhas foram distribuídas em quatro tratamentos (0; 1,5; 3,0 e 4,5% PG) em delineamento inteiramente casualizado em esquema de parcela subdividida. Os maiores níveis de inclusão de PG (3,0 e 4,5%) na água provocaram aumento linear na concentração sanguínea de glicose ao longo do período gestacional. A concentração sanguínea de glicose nas ovelhas que receberam 3% PG na água aumentou linearmente com o aumento no período de coleta. Enquanto, para as ovelhas que receberam 4,5% PG a resposta foi quadrática. A inclusão de PG na água de ovelhas gestante melhora os parâmetros metabólicos energéticos, sendo a utilização dessa substância de extrema importância para amenizar o balanço energético negativo no final da gestação.
Palavras-chave
AGNE; gestação; glicose; ovinos; triglicerídeos
Referências
Cezar, M. F.; Sousa, W. H. de. Avaliação e utilização da condição corporal como ferramenta de melhoria da reprodução e produção de ovinos e caprinos de corte. In: Reunião Anual da Sociedade Brasileira de Zootecnia, 43., 2006, João Pessoa. Anais ... João Pessoa: SBZ, 2006. p. 649-678.
Chiofalo, V.; D`Aquino, S.; Schinardo Tenghi, E.; Sanzarello, L.; Chiofalo, B.; Piccitto, F.; Cavallaro, M.; Liotta, L. Efect of peripartal propylene glycol supplementation on some biochemical parameters in dairy goats. Tropical and Subtropical Agroecosystems, v.11, n.1, p.215-217, 2009. http://www.revista.ccba.uady.mx/urn:ISSN:1870-0462-tsaes.v11i1.36. 14 Set. 2017.
Chiofalo, V.; Todaro, M., Liotta, L. Margotta, S.; Manzo, T.; Leto, G. Effect of propylene glycol on pré and postpartum performance by dairy ewes. Small Ruminant Research, v.58, n.2, p.107-114, 2005. https://doi.org/10.1016/j.smallrumres.2004.09.001.
Chun, H.Z.; Beltramini, J.N.; Fan, Y.X.; Lu, G.Q. Chemoselective catalytic conversion of glycerol as a biorenewable source to valuable commodity chemicals. Chemical Society Reviews, v.37, n.3, p.527-549, 2008. https://doi.org/10.1039/B707343G.
Duehlmeier R, Noldt S, Ganter M. Pancreatic insulin release and peripheral insulin sensitivity in German black headed mutton and Finish Landrace ewes: evaluation of the role of insulin resistance in the susceptibility to ovine pregnancy toxemia. Domestic Animal Endocrinology, v.44, n.4, p.213-21, 2013. https://doi.org/10.1016/j.domaniend.2013.01.003
Formigoni, A. et al. Effect of propylene glycol supplementation around parturition on milk yield, reproduction performance and some hormonal and metabolic characteristics in dairy cows. Journal of Dairy Research, v.63, n.1, p.11-24, 1996. https://doi.org/10.1016/j.anireprosci.2008.04.028
Jones M.L.; Allison R.W. Evaluation of the ruminant complete blood cell count. Veterinary Clinics of North America: Food Animal Practice, v. 23, n.3, p.377- 402, 2007. https://doi.org/10.1016/j.cvfa.2007.07.002
Kaneko, J.J.; Harvery, J.W.; Bruss, M.L. Clinical biochemistry of domestic animals. 6.ed. San Diego: Academic Press, 2008. 916p.
Kristensen, N. B., A. Danfaer, B. A. Rojen, B. M. L. Raun, M. R. Weisbjerg and T. Hvelplund. Metabolism of propionate and 1,2-propanediol absorbed from the washed reticulorumen of lactating cows. Journal Animal Science, v. 80, n.8, p.2168-2175, 2002. https://doi.org/10.2527/2002.8082168x.
Lien, T.F.; Chang, L.B; Horng, Y.M.; Wu, C.P. Effects of propylene glycol on milk production, serum metabolites and reproductive performance during the trasnsition period of dairy cows. Australasian Journal of Animal Sciences, v.23, n.3, p.372-378, 2010. https://doi.org/10.5713/ajas.2010.60620.
Liu, Q.; Wang, C.; Yang, W.Z.; Zhang, W.W.; Yang, X.M.; He, D.C.; Dong, K.H.; Huang, Y.X. Effects of feeding propyleneglycol on dry matter intake, lactation performance,energy balacnce and blood metabolites in early lactation dairy cows. The Animal Consortium, v.3, n.10, p.1420-1427, 2009. https://doi.org/10.1017/S175173110999036X.
Miyoshi, S.; Pate, J.L.; Palmquist, D.L. Effects of propylene glycol drenching on energy balance, plasma glucose, plasma insulin, ovarian function and conception in dairy cows. Animal Reproduction Science, v.68, n.1-2, p.29-43, 2001. https://doi.org/10.1016/S0378-4320(01)00137-3.
Nafikov, R. A. and Beitz, D. C. Carbohydrate and lipid metabolism in farm animals. The Journal of Nutrition, v.137, n.3, p.702-705, 2007. http://jn.nutrition.org/content/137/3/702.full. 28 Jul. 2016.
National Research Council - NRC. Nutrient requirements of small ruminants: sheep, goats, cervids, and new world camelids. Washington: NRC, 2007. 362p.
Nawito, M. F., Hameed, Amal R. A. El, Sosa, A. S. A.; Mahmoud, K. Gh. M. Impact of pregnancy and nutrition on oxidant⁄antioxidant balance in sheep and goats reared in South Sinai, Egypt. Veterinary World, v.9, n.8, p.801-805, 2016. https://doi.org/10.14202/vetworld.2016.801-805.
Nielsen, N. I.; K. L. Ingvartsen. Propylene glycol for dairy cows A review of the metabolism of propylene glycol and its effects on physiological parameters, feed intake, milk production and risk of ketosis. Animal Feed Science Technology, v.115, n.3-4, p.191-213, 2004. https://doi.org/10.1016/j.anifeedsci.2004.03.008.
Polizopoulou, Z.S. Haematological tests in sheep health management. Small Ruminant Research. v. 92, n. 2-3, p. 88-91, 2010. https://doi.org/10.1016/j.smallrumres.2010.04.015.
Rejitha, J. and Karthiayini, K. Effect of ascorbic acid supplementation on haemato-biochemical and oxidative stress parameters of crossbred Malabari does during peripartum period. The International Journal of Science & Technoledge, v.2, n.6, p.202-205, 2014. http://theijst.com/june2014/32.ST1406-092.pdf. 02 Sep. 2016.
Rukkwamsuk, T.; Panneum, S. Effect of oral administration of propylene glycol during periparturient period on blood biochemical parameters and liver triacylglicerol accumulation in postparturient dairy cows. African Journal of Agricultural Research, v. 5, n.23, p.3239-3245, 2010. https://doi.org/10.5897/AJAR10.722.
Santos, R. A.; Campos, A. G. S.S.; Afonso, J.A. B.; Soares, P. C.; Mendonça. C. L. Efeito da administração de propileno glicol e cobalto associado à vitamina B12 sobre o perfil metabólico e a atividade enzimática de ovelhas da raça Santa Inês no periparto. Pesquisa Veterinária Brasileira, v. 32, n.1, p.60-66, 2012. https://doi.org/10.1590/S0100-736X2012001300012.
Sundrum, A. Review metabolic disorders in the transition period indicate that the dairy cows' ability to adapt is overstressed. Animals, v.5, n.4, p. 978-1020, 2015. https://doi.org/10.3390/ani5040395.
Apontamentos
Direitos autorais 2017 Rogério Pereira dos Santos, Gilberto de Lima Macedo Junior, Simone Pedro da Silva, Luciano Fernandes de Sousa, Marina Elizabeth Barbosa Andrade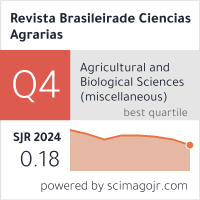 Google Scholar
2020
h5 index: 11
h5 median: 12
"Este periódico é filiado à
Revista Brasileira de Ciências Agrárias (Agrária)
ISSN (ON LINE) 1981-0997
Pró-Reitoria de Pesquisa e Pós-Graduação
Universidade Federal Rural de Pernambuco
Rua Dom Manoel de Medeiros, s/n, Dois Irmãos Recife-Pernambuco-Brasil 52171-900

Todo o conteúdo da Agrária, exceto onde está identificado, está licenciado sob uma licença Creative Commons.