Parâmetros genéticos e caracterização agronômica de acessos de cevada nua sob irrigação no Cerrado - DOI:10.5039/agraria.v13i3a5567
Resumo
O objetivo deste trabalho foi estimar os parâmetros genéticos e caracterizar agronomicamente 18 acessos de cevada nua, e 3 testemunhas de cevada com grãos cobertos pertencentes ao banco de germoplasma da Embrapa Recursos Genéticos e Biotecnologia, utilizando dez caracteres agronômicos quantitativos. O experimento foi realizado em dois locais no Distrito Federal, em maio de 2012, utilizando um delineamento experimental de blocos ao acaso com três repetições. As características avaliadas foram: rendimento de grãos, classificação comercial, peso de mil sementes, altura de plantas, acamamento, ciclo de espigamento, peso hectolítrico e teor de proteína no grão. Os dados obtidos foram submetidos à análise de variância e as médias agrupadas pelo teste de Scott-Knott. Foram detectadas diferenças significativas a 1% de probabilidade entre os acessos para todas as características avaliadas. Há possibilidade de se obter ganhos genéticos devido aos elevados valores do coeficiente de variação genotípico. Foi observada alta herdabilidade em sentido amplo para todas as características, exceto para teor de proteína, possibilitando a seleção efetiva de características de interesse dos genitores para seus descendentes. Os acessos CI 13453, CN Cerrado 1, CN Cerrado 2, CN Cerrado 5 e PI356466 destacaram-se positivamente dos demais para rendimento de grãos e acamamento.
Palavras-chave
recursos genéticos; variabilidade genética; herdabilidade
Referências
Ajith, Ajith, A. Genotype effect of South African barley cultivars on malting quality under different nitrogen levels. Bloemfontein: University of the Free State, 2009. 97p. Master Degree Dissertation. http://hdl.handle.net/11660/662. 10 Jan. 2018.
Al-Yassin, A.; Grando, S.; Kafawin, O.; Tell, A.; Ceccarelli, S. Heritability estimates in contrasting environments as influenced by the adaptation level of barley germplasm. Annals of Applied Biology, v.147, n. 3, p.235-244, 2005. https://doi.org/10.1111/j.1744-7348.2005.00025.x.
Amabile, R. F.; Faleiro, F. G.; Capettini, F.; Peixoto, J. R.; Sayd, R. M. Estimation of genetic parameters, phenotypic, genotypic and environmental correlations on barley (Hordeum Vulgare L.) grown under irrigation conditions in the Brazilian savannah. Interciencia, v.40, n.4, p. 233-260, 2015. https://www.interciencia.net/wp-content/uploads/2017/10/255-AMABILE.pdf. 12 Feb. 2018.
Amabile, R. F.; Faleiro, F. G.; Capettini, F.; Peixoto, J. R.; Sayd, R. M. Genetic variability in elite barley genotypes based on the agro-morphological characteristics evaluated under irrigated system. Ciência e Agrotecnologia, v. 41, n. 2, p. 147-158, 2017. https://doi.org/10.1590/1413-70542017412010116.
Amabile, R. F.; Faleiro, F.G. A cevada irrigada no Cerrado: estado da arte, recursos genéticos e melhoramento. Brasília: Embrapa, 2014. 127 p.
Amabile, R.F.; Capettini, F.; Faleiro, F.G. BRS Savanna: New six-rowed malting barley cultivar for irrigated crops in the Brazilian savanna. Crop Breeding and Applied Biotechnology, v.13, n. 2, p.160-163, 2013. https://doi.org/10.1590/S1984-70332013000200010.
Annicchiarico, P.; Bellah, F.; Chiari, T. Defining subregions and estimating benefits for a specific-adaptation strategy by breeding programs: a case study. Crop Science, v.45, n. 5, p.1741-1749, 2005. https://doi.org/10.2135/cropsci2004.0524.
Baik, B.-K.; Newman, C.W.; Newman, R.K. Food uses of barley. In: Ullrich, S. E. (ed.). Barley: production, improvement, and uses. Chichester: John Wiley and Sons, 2011. p.532-562.
Bhatty, R.S. The potential of hull-less barley. Cereal Chemistry, v.76, n. 5, p.589-599, 1999. https://doi.org/10.1094/CCHEM.1999.76.5.589.
Borém, A.; Miranda, G.V. Melhoramento de plantas. 4.ed. Viçosa: Editora UFV, 2005. 525 p.
Brasil. Ministério da Agricultura e Abastecimento. Portaria 691, de 22 de novembro de 1996. Aprova a norma de identidade e qualidade da cevada, para comercialização interna. Diário Oficial da União, v.134, n.228, seção 1, p.20-21, 1996.
Brooks, W.S.; Vaughn, M.E.; Berger, G.L.; Griffey, C.A.; Thomason, W.E.; Paling, J.I.;
Chand, N.; Vishwakarma, S.R.; Verma, O.P.; Kumar, M. Worth of genetic parameters to sort out new elite barley lines over heterogeneous environments. Barley Genetics Newsletter, v.38, p.10-13, 2008. https://wheat.pw.usda.gov/ggpages/bgn/38/Chand1.htm. 22 Feb. 2017.
Choo, T.-M.; Ho, K.M.; Martin, R.A. Genetic analysis of a hulless × covered cross of barley using doubled-haploid lines. Crop Science, v.41, n. 4, p.1021-1026, 2001. https://doi.org/10.2135/cropsci2001.4141021x.
Cruz, C.D. GENES - a software package for analysis in experimental statistics and quantitative genetics. Acta Scientiarum. Agronomy, v.35, n.3, p.271-276, 2013. https://doi.org/10.4025/actasciagron.v35i3.21251.
Dickin, E.; Steele, K.; Wright, D. Hulless barley for functional food. Newport: Harper Adams University College, 2010. 48 p. (HGCA Project Report, 472). https://cereals.ahdb.org.uk/media/308515/pr472-final-project-report.pdf. 25 Feb. 2017.
Faostat. Statistical databases. http://faostat.fao.org 10 Dec. 2017.
Fox, G.P. Biochemical and molecular evaluation of quality for malt and feed barley. Lismore: Southern Cross University, 2008. 179 p. PhD Thesis. https://epubs.scu.edu.au/cgi/viewcontent.cgi?article=1100&context=theses. 10 Dec. 2017.
Gut, M.; BichońSki, A.; WęGrzyn, S. 2004. Heritability, variation and relationship between frost resistance of winter barley and some of its characters. Electronic Journal of Polish Agricultural Universities, v. 7, n. 1, 2004. http://www.ejpau.media.pl/volume7/issue1/agronomy/art-02.html 20 Dec. 2017.
Helm, C.V.; Francisco, A. Chemical characterization of Brazilian hulless barley varieties, flour fractionation, and protein concentration. Scientia Agricola, v.61, n. 6, p.593-597, 2004. https://doi.org/10.1590/S0103-90162004000600005.
Jalata, Z.; Ayana, A.; Zeleke, R. Variability, heritability and genetic advance for some yield and yield related traits in Ethiopian barley (Hordeum vulgare L.) landraces and crosses. International Journal of Plant Breeding and Genetics, v.5, n. 1, p.44-52, 2011. https://doi.org/10.3923/ijpbg.2011.44.52.
Marquez-Cedillo, L.A.; Hayes, P.M.; Kleinhofs, A.; Legge, W.G.; Rossnagel, B.G.; Sato, K.; Ullrich, S.E.; Wesenberg, D.M. QTL analysis of agronomic traits in barley based on the doubled haploid progeny of two elite North American cultivars representing different germplasm groups. Theoretical and Applied Genetics, v.103, n. 4, p.625-637, 2001. https://doi.org/10.1007/PL00002919.
Mohammadi, S.A.; Prasanna, B.M. Analyses of genetic diversity in crop plants – Salient statistics tools and considerations. Crop Science, v.43, n. 4, p.1235-1248, 2003. https://doi.org/10.2135/cropsci2003.1235.
Molina-Cano, J.L.; Francesch, M.; Perez-Vendrell, A.M.; Ramo, T.; Voltas, J.; Brufau, J. Genetic and environmental variation in malting and feed quality of barley. Journal of Cereal Science, v.25, n. 1, p.37-47, 1997. https://doi.org/10.1006/jcrs.1996.0067.
Monteiro, V.A.; Amabile, R.F.; Spehar, C.R.; Faleiro, F.G.; Vieira, E.A., Peixoto, J.R.; Ribeiro Junior, W.Q.; Montalvão, A.P.L. Genetic parameters and morpho-agronomic characterization of barley working collection in the Brazilian Savannah. Journal of the Institute of Brewing, v. 124, n.2, p.121-131, 2018. https://doi.org/10.1002/jib.484.
Newman, C.W.; Newman, R.K. Nutritional aspects of barley seed structure and composition. In: Shewry, P. R. (Ed.). Barley: genetics, biochemistry, molecular biology and bio-technology. Wallingford: CAB International, 1991, p.351-368.
Resende, M.D.V.; Duarte, J.B. Precisão e controle de qualidade em experimentos de avaliação de cultivares. Pesquisa Agropecuária Tropical, v.37, n. 3, p.182-194, 2007. https://www.revistas.ufg.br/pat/article/view/1867/1773. 07 Dec. 2017.
Sayd, R.M.; Amabile, R.F.; Faleiro, F.G.; Montalvão, A.P.L.; Coelho, M.C. Agronomic characterization of high-yielding irrigated barley accessions in the Cerrado. Pesquisa Agropecuária Brasileira, v. 52, n. 2, p.84-94, 2017. https://doi.org/10.1590/s0100-204x2017000200002.
Therrien, M.C. Estimates of heritability of major malting quality traits in Canadian barley. Barley Genetics Newsletter, v.36, p.10-11, 2006. https://wheat.pw.usda.gov/ggpages/bgn/36/Therrien.pdf. 10 Dec. 2017.
Tinker, N.A.; Mather, D.E.; Rossnagel, B. G. ; Kasha, K. J. ; Kleinhofs, A.; Hayes, P. M.; Falk, D. E.; Ferguson, T.; Shugar, L. P.; Legge, W. G.; Irvine, R. B.; Choo, T. M.; Briggs, K. G.; Ullrich, S. E.; Franckowiak, J. D.; Blake, T. K.; Graf, R. J.; Dofing, S. M.; Saghai Maroof, M. A.; Scoles, G. J.; Hoffman, D.; Dahleen, L. S.; Kilian, A.; Chen, F.; Biyashev, R. M.; Kudrna, D. A.; Steffenson, B. J. Regions of the genome that affect agronomic performance in two-row barley. Crop Science, v.36, n. 4, p.1053-1062, 1996. https://doi.org/10.2135/cropsci1996.0011183X003600040040x.
Yalçin, E.; Çelik, S.; Akar, T.; Sayim, I.; Köksel, H. Effects of genotype and environment on b-glucan and dietary fiber contents of hull-less barley grown in Turkey. Food Chemistry, v.101, n. 1, p.171-176, 2007. https://doi.org/10.1016/j.foodchem.2006.01.010.
Žáková, M.; Benková, M. Characterization of spring barley accessions based on multivariate analysis. Communications in Biometry and Crop Science, v.1, n. 2, p.124-134, 2006. http://agrobiol.sggw.waw.pl/~cbcs/articles/CBCS_1_2_8.pdf. 05 Nov. 2017.
Apontamentos
Direitos autorais 2018 Ricardo Meneses Sayd, Renato Amabile, Fábio Gelape Faleiro, Ana Paula Leite Montalvão, Felipe Augusto Alves Brige, Francisco Marcos Santos Delvico, Pedro Ivo Leite Sala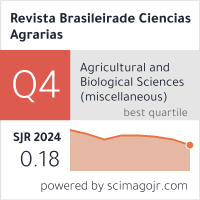 Google Scholar
2020
h5 index: 11
h5 median: 12
"Este periódico é filiado à
Revista Brasileira de Ciências Agrárias (Agrária)
ISSN (ON LINE) 1981-0997
Pró-Reitoria de Pesquisa e Pós-Graduação
Universidade Federal Rural de Pernambuco
Rua Dom Manoel de Medeiros, s/n, Dois Irmãos Recife-Pernambuco-Brasil 52171-900

Todo o conteúdo da Agrária, exceto onde está identificado, está licenciado sob uma licença Creative Commons.