Produção de biomassa e conteúdo de macronutrientes em Pennisetum glaucum (L.) R. Brown em função da adubação orgânica e irrigação - - DOI:10.5039/agraria.v15i4a8576
Resumo
Dado o crescimento e necessidade por sistemas de adubação orgânica e irrigação mais efetivos em plantas de milheto (Pennisetum glaucum (L.) R. Brown) cultivado no semiárido brasileiro, um experimento de campo foi conduzido nos anos de 2012 e 2013 simulando os sistemas de agricultura familiar adotados no semiárido brasileiro para explorar os efeitos de cinco fontes de adubos orgânicos (esterco bovino, esterco caprino, compostagem, adubação verde e controle) sobre condições irrigadas e não irrigadas. O delineamento experimental foi um esquema fatorial com quatro repetições. Os maiores valores de biomassa seca da parte aérea (16,55 Mg ha-1), e conteúdo de Ca, Mg e S na planta (6,77; 4,39; e 1,47 g kg-1 de Ca, Mg e S, respectivamente) foram observados nas parcelas onde a compostagem e a irrigação foram aplicadas. Enquanto para a proteína bruta (15,41%), os maiores valores foram observados onde a adubação verde e a irrigação foram aplicadas. Finalmente, para os conteúdos de N, P e K na planta (24,60; 2,00; 45,75 g kg-1 de N, P e K, respectivamente), os maiores valores foram observados onde o esterco caprino e a irrigação foram aplicados. Os resultados observados neste estudo sugerem que fontes orgânicas podem afetar a produção de biomassa seca da planta e o conteúdo de proteína bruta (aumentando em 723,38 e 223,73% comparado com o controle, respectivamente). Os resultados deste estudo ressaltam a importância de considerar a adubação orgânica e a irrigação como fatores-chave para melhorar ambas a produção de alimento e forragem.
Palavras-chave
agricultura irrigada; adubação com fontes orgânicas; nutrição de plantas
Referências
Ahmad, I.; Wajid, S.A.; Ahmad, A.; et al. Optimizing irrigation and nitrogen requirements for maize through empirical modeling in semi-arid environment. Environmental Science and Pollution Research, v. 26, n. 2, p.1227-1237, 2018. https://doi.org/10.1007/s11356-018-2772-x.
Black, C.A. (Ed.). Methods of soil analysis. Part 1. Physical and mineralogical properties,
including statistics of measurement and sampling, 9.1. Madison: American Society of Agronomy, 1965. 770p. (American Society of Agronomy. Agronomy Monograph, 9.1) https://doi.org/10.2134/agronmonogr9.1.
Borges, F.R.M.; Bezerra, F.M.L.; Marinho, A.B.; Ramos, E.G.; Adriano, J.N.J. Goat manure and irrigation on production component of sunflower. Revista Caatinga, v. 32, n. 1, p. 211-221, 2019. https://doi.org/1983-21252019v32n121rc.
Choudhary, M.; Rana, K.S.; Meena, M.C.; Bana, R.S.; Jakhar, P.; Ghasal, P.C.; Verma, R.K. Changes in physico-chemical and biological properties of soil under conservation agriculture-based pearl millet-mustard cropping system in rainfed semi-arid region. Archives of Agronomy and Soil Science, v. 65, n. 7, p. 911-927, 2019. https://doi.org/10.1080/03650340.2018.1538556.
Dixon, R.; Coates, D. Review: Near infrared spectroscopy of faeces to evaluate the nutrition and physiology of herbivores. Journal of Near Infrared Spectroscopy, v. 17, n.1, p. 1–31, 2009. https://doi.org/10.1255/jnirs.822.
Duan, N.; Zhang, D.; Lin, C.; Zhang, Y.; Zhao, L.; Liu, H.; Liu, Z. Effect of organic loading rate on anaerobic digestion of pig manure: Methane production, mass flow, reactor scale and heating scenarios. Journal of Environmental Management, v. 231, n. 1, p. 646-652, 2018. https://doi.org/10.1016/j.jenvman.2018.10.062.
Ertek, D. Importance of pan evaporation for irrigation scheduling and proper use of crop-pan coefficient (Kcp), crop coefficient (Kc) and pan coefficient (Kp). African Journal of Agricultural Research, v.6, n.32, p. 6706-6718, 2011. https://doi.org/10.5897/AJAR11.1522.
Heidari, H.; Yosefi, M.; Sasani, S.; Nosratti, I. Effect of irrigation with detergent-containing water on foxtail millet shoot biomass and ion accumulation. Environmental Science and Pollution Research, v.26, p.6328–6335, 2019. https://doi.org/10.1007/s11356-018-3966-y.
Huang, M.; Zhang, Z.; Sheng, Z.; Zhu, C.; Zhai, Y.; Lu, P.; Brinkman, D. Soil salinity and maize growth under cycle irrigation in Coastal soils. Agronomy Journal, v.111, n.5, p.2276-2286, 2019. https://doi.org/10.2134/agronj2018.10.0684.
International Institute of Tropical Agriculture - IITA. Selected methods for soil and plant analysis. Ibadan: IITA Manual Services, 1979. 57p.
Litvin, A.G.; van Iersel, M.W.; Malladi, A. Drought stress reduces stem elongation and alters gibberellin-related gene expression during vegetative growth of tomato. Journal of the American Society for Horticultural Science, v. 141, n.6, p. 591-597, 2016. https://doi.org/10.21273/JASHS03913-16.
Okalebo, J.R.; Gathua, K.W.; Woomer, P.L. Laboratory methods of plant and soil analysis: a working manual. Nairobi: Tropical Soil Biology and Fertility Programme 1993. 88p.
Olsen, S.R.; Cole, C.V.; Watanable, F.S.; Dean, L.A. Estimation of available phosphorous in soils by extraction with Sodium bicarbonate. Washington: United State Department of Agriculture, 1954. 22p. (USDA. Circular, 939). https://archive.org/details/estimationofavai939olse. 29 Mar. 2020.
Onoja, A.O.; Abraha, A.Z.; Girma, A.; Achike, A.I. Climate-smart agricultural practices (CSA) adoption by crop farmers in semi-arid regions of west and east Africa: evidence from Nigeria and Ethiopia. In: Castro, P.; Azul, A.; Leal Filho, W.; Azeiteiro, U. (Eds.). Climate change-resilient agriculture and agroforestry. Ecosystem services and sustainability. (Series. Climate Change Management). Cham: Springer, 2019. p.89-113. https://doi.org/10.1007/978-3-319-75004-0_6.
Ozer, H.; Coban, F.; Sahin, U.; Ors, S. Response of black cumin (Nigella sativa L.) to deficit irrigation in a semi-arid region: growth, yield, quality, and water productivity. Industrial Crops and Products, v. 144, e112048, 2020. https://doi.org/10.1016/j.indcrop.2019.112048.
R Core Team. R: A language and environment for statistical computing. Vienna: R Foundation for Statistical Computing, 2018. https://www.R-project.org. 29 Mar. 2020.
Richard, L.A. (Ed.). Diagnosis and improvement of saline and alkali soils. Washington: US Department of Agriculture, 1954. 160p. (USDA. Agricultural Handbook, 60). https://efotg.sc.egov.usda.gov/references/Public/AZ/HB60_saline_alkali_soils.pdf. 19 Mar. 2020.
Scagel, C.F.; Lee, J.; Mitchell, J.N. Salinity from NaCl changes the nutrient and polyphenolic composition of basil leaves. Industrial Crops and Products, v. 127, p. 119-128, 2019. https://doi.org/10.1016/j.indcrop.2018.10.048.
Souza, T.A.F.; Rodrígues, A.F.; Marques, L.F. Long-term effects of alternative and conventional fertilization I: Effects on arbuscular mycorrhizal fungi community composition. Russian Agricultural Sciences, v. 41, n. 6, p.454-461, 2015. https://doi.org/10.3103/S1068367415060245.
Souza, T.A.F.; Santos, D. Effects of using different host plants and long-term fertilization systems on population sizes of infective arbuscular mycorrhizal fungi. Symbiosis, v.76, p.139–149, 2018. https://doi.org/10.1007/s13199-018-0546-3.
Ullah, A.; Ishfaq, A.; Ahmad, A.; Khaliq, T.; Saeed, U.; Habib-Ur-Rahman, M.; Hussain, J.; Ullah, S.; Hoogenboom, G. Assessing climate change impacts on pearl millet under arid and semi-arid environments using CSM-CERES-Millet model. Environmental Science and Pollution Research, v.26, p.6745–6757, 2019. https://doi.org/10.1007/s11356-018-3925-7.
Wang, R.; Yu, G.; He, N.; Wang, Q.; Xia, F.; Zhao, N.; Xu, Z.; Ge, J. Elevation-related variation in leaf stomatal traits as a function of plant functional type: evidence from Changbai mountain, China. PLOS ONE, v. 9, p.1-15, 2014. https://doi.org/10.1371/journal.pone.0115395.
Wang, Y.; Zhang, X.; Chen, J.; Chen, A.; Wang, L.; Guo, X.; Niu, Y.; Liu, S.; Mi, G.; Gao, Q. Reducing basal nitrogen rate to improve maize seedling growth, water and nitrogen use efficiencies under drought stress by optimizing root morphology and distribution. Agricultural Water Management, v. 212, n. 1, p. 328-337, 2019. https://doi.org/10.1016/j.agwat.2018.09.010.
Zhang, Z.; Yu, K.; Siddique, K.H.M.; Nan, Z. Phenology and sowing time affect water use in four warm-season annual grasses under a semi-arid environment. Agricultural and Forest Meteorology, v.269–270, p.257-269, 2019. https://doi.org/10.1016/j.agrformet.2019.02.027.
Apontamentos
Direitos autorais 2020 Adriana de Fátima Meira Vital, Tancredo Souza, Lucas Jónatan Rodrigues da Silva, Rivaldo Vital dos Santos, Samuel Inocêncio Alves da Silva, Gislaine dos Santos Nascimento, Djail Santos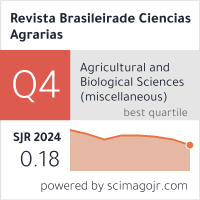 Google Scholar
2020
h5 index: 11
h5 median: 12
"Este periódico é filiado à
Revista Brasileira de Ciências Agrárias (Agrária)
ISSN (ON LINE) 1981-0997
Pró-Reitoria de Pesquisa e Pós-Graduação
Universidade Federal Rural de Pernambuco
Rua Dom Manoel de Medeiros, s/n, Dois Irmãos Recife-Pernambuco-Brasil 52171-900

Todo o conteúdo da Agrária, exceto onde está identificado, está licenciado sob uma licença Creative Commons.