Avaliação de papel ativo na conservação e na qualidade pós-colheita de morango - DOI:10.5039/agraria.v14i4a6087
Resumo
Durante a etapa de pós-colheita do morango podem ocorrer consideráveis perdas causadas principalmente pelo ataque de fungos fitopatogênicos. Uma alternativa ao uso de fungicidas é o óleo essencial (OE) incorporado na embalagem para o controle desses micro-organismos. Este trabalho desenvolveu papel ativo incorporado com 2,5, 5, 7 e 10% do OE de cinamaldeído e avaliou as suas propriedades antifúngicas contra Rhizopus stolonifer e Botrytis cinerea. Posteriormente, morangos foram colocados em "ninhos" feitos com o papel ativo produzido com 5% do OE, armazenados à temperatura de refrigeração (8 °C) e avaliados quanto aos parâmetros microbiológicos e físico-químicos nos tempos 0, 3, 6, 9 e 12 dias. As análises físico-químicas dos frutos apresentaram diferença (p > 0,05) entre os tratamentos para firmeza e cor dos frutos. Verificou-se nos resultados microbiológicos redução no crescimento de fungos filamentosos, leveduras e mesófilos aeróbios em morangos acondicionados no papel ativo. Conclui-se que o uso do papel ativo incorporado com OE em morangos constitui uma alternativa na substituição de agroquímicos, com potencial aplicação em outros frutos.
Palavras-chave
atividade antifúngica; óleo essencial; Fragaria x ananassa Duch.
Referências
Aguilar-González, A. E.; Palou, E.; López-Malo, A. Antifungal activity of essential oils of clove (Syzygium aromaticum) and/or mustard (Brassica nigra) in vapor phase against gray mold (Botrytis cinerea) in strawberries. Innovative Food Science and Emerging Technologies, v.32, p.181–185, 2015. https://doi.org/10.1016/j.ifset.2015.09.003.
Association of Official Analytical Chemists – AOAC. Official methods of analyses of the Association of Official Analytical Chemists. 12 ed. Washington: AOAC, 1995.
Benato, E.A.; Belletti, T.C.; Terao, D.; Franco, D.A.S. Óleos essenciais e tratamento térmico no controle pós-colheita de bolor verde em laranja. Summa Phytopathologica, v.44, n.1, p.65-71, 2018. https://doi.org/10.1590/0100-5405/175659.
Boubaker, H.; Karim, H.; Hamdaoui, El; Msanda, A.; Leach, F.; Bombarda, D.; Vanloot, I.; Abbad, P.; Boudyach, A.; Ait Ben, E.H.; Aoumar, A. Chemical characterization and antifungal activities of four Thymus species essential oils against postharvest fungal pathogens of citrus. Industrial Crops and Products, v.86, p.95–101, 2016. https://doi.org/10.1016/j.indcrop.2016.03.036.
Campos-Requena, V. H.; Rivasa, B. L.; Péreza, M. A.; Figueroa, C. R.; Figueroa, N. E.; Sanfuentes, E. A. Thermoplastic starch/clay nanocomposites loaded with essential oil constituents as packaging for strawberries - In vivo antimicrobial synergy over Botrytis cinerea. Postharvest Biology and Technology, v.129, p.29–36, 2017. https://doi.org/10.1016/j.postharvbio.2017.03.005.
Costa, H.; Ventura, J. A. Doenças do morangueiro: diagnóstico e manejo. In: Balbino, J. M. S. (Ed.). Tecnologias para produção, colheita e pós-colheita de morangueiro. Vitória: Incaper, p. 41-57, 2006.
Cozmuta, A.M.; Turila, A.; Apjok, R.; Ciocian, A.; Cozmuta, L.M.; Peter, A.; Nicula, C.; Galic, N.; Benkovic, T. Preparation and characterization of improved gelatin films incorporating hemp and sage oils. Food Hydrocolloids, v.49, p.144-155, 2015. https://doi.org/10.1016/j.foodhyd.2015.03.022.
Derbalah, A. S.; Dewir, Y. H.; El-Sayed. A. E.N. B. Antifungal activity of some plant extracts against sugar beet damping-off caused by Sclerotium rolfsii. Annals of Microbiology. v.62, n.3, p.1021-1029, 2012. https://doi.org/10.1007/s13213-011-0342-2.
Espitia, P.J.P.; Soares, N. de F.F.; Botti, L.C.M.; Melo, N.R. de; Pereira, O. L; Silva, W.A. da. Assessment of the efficiency packaging oils in the preservation of postharvest papaya in an antimicrobial packaging system. Brazilian Journal of Food Technology, v.15, n. 4, p.333-342, 2012. https://doi.org/10.1590/S1981-67232012005000027.
Ferreira, D. F. Sisvar: a computer statistical analysis system. Ciência e Agrotecnologia, v. 35, n.6, p. 1039-1042, 2011. https://doi.org/10.1590/S1413-70542011000600001.
Food and Drug Administration - FDA. Code of federal regulation (CFR), Title 21: Food and drugs. Chapter I – food and drug administration, department of (continued), Part 182 – substances generally recognized as safe (GRAS), subpart A – general provisions, subpart 182.21- essential oils, oleoresins, and natural extractives. Office of the Federal Register, Washington. https://www.accessdata.fda.gov/scripts/cdrh/cfdocs/cfcfr/CFRSearch.cfm?fr=182.20. 30 Ago. 2018.
Garcia, C.; Horst, M. V.; Maia, A. J.; Leite, C. D.; Faria, C. M. D. R.; Schwan-Estrada, K. R. F. Óleo essencial de alecrim no controle de doenças da videira cultivar Cabernet Sauvignon. Revista Brasileira de Ciências Agrárias, v.12, n.4, p.452-457, 2017. https://doi.org/10.5039/agraria.v12i4a5477.
Garcia, R.; Alves, E. S. S.; Santos, M. P.; Aquije, G. M. F. V.; Fernandes, A. A. R.; Santos, R. B. D.; Ventura, J. A.; Fernandes, P. M. B. Antimicrobial activity and potential use of monoterpenes as tropical fruits preservatives. Brazilian Journal of Microbiology, v. 39, n.1, p. 163-168, 2008. https://doi.org/10.1590/S1517-83822008000100032.
Gorrasi, G.; Bugatti, V.; Tammaro, L.; Vertuccio, L.; Vigliotta, G.; Vittoria, V. Active coating for storage of Mozzarella cheese packaged under thermal abuse. Food Control, v. 64, p. 10-16, 2016. https://doi.org/10.1016/j.foodcont.2015.12.002.
Kerry, J. P. New packaging technologies, materials and formats for fast-moving consumer products. In: Han, J. H. (Ed.), Innovations in food packaging. 2.ed. San Diego: Academic Press, 2014. p. 549–584. https://doi.org/10.1016/B978-0-12-394601-0.00023-0.
Lorenzetti, E.R.; Monteiro, F.P.; Souza, R.J.; Scalice, H.K.; Diogo Jr, R.; Pires, M.S.O. Bioatividade de óleos essenciais no controle de Botrytis cinerea isolado de morangueiro. Revista Brasileira de Plantas Medicinais, v.13, n. especial, p.619-627, 2011. https://doi.org/10.1590/S1516-05722011000500019.
Moura, G. S.; Jaski, J. M.; Franzener, G. Potencial de extratos etanólicos de propólis e extratos aquosos de plantas espontâneas no controle de doenças pós-colheita do morango. Revista Verde, v. 11, n.5, p.57-63, 2016. https://doi.org/10.18378/rvads.v11i5.4175.
Peretto, G.; Du, W.X.; Avena-Bustillos, R.J.; Sarrael, S.B.L.; Hua, S.S.T.; Sambo, P.; McHugh, T.H. Increasing strawberry shelf-life with carvacrol and methyl cinnamate antimicrobial vapors released from edible films. Postharvest Biology and Technology, v.89, p.11–18, 2014. https://doi.org/10.1016/j.postharvbio.2013.11.003.
Quattara, B.; Simard, R.; Piette, G.; Begin, A.; Holley, R. A. Inhibition of surface spoilage bacteria in processed meats by application of 45 antimicrobial films prepared with chitosan. International Journal of Food Microbiology, v. 62, n.1-2, p. 139-148, 2000. https://doi.org/10.1016/S0168-1605(00)00407-4.
Soares, N.F.F. Bitterness reduction in citrus juice through naringinase immobilized into polymer film. New York: Cornell University, 1998. 130 p. Ph.D. Dissertation.
Stavropoulou, A.; Loulakakis, K.; Magan, N.; Tzortzakis, N. Origanum dictamnus oil vapour suppresses the development of grey mould in eggplant fruit in vitro. BioMed Research Corporation, v,2014, article 562679, 2014. https://doi.org/10.1155/2014/562679.
Vanderzant, C., Splittstoesser, D.F (Eds.). Compendium of methods for the microbiological examination of foods. 3.ed. Washington: APHA, 2001. 1219p.
Ventura-Aguilar, R. I.; Bautista-Baños, S.; Flores-Garcıa, G.; Zavaleta-Avejar, L. Impact of chitosan based edible coatings functionalized with natural compounds on Colletotrichum fragariae development and the quality of strawberries. Food Chemistry, v. 262, p. 142–149, 2018. https://doi.org/10.1016/j.foodchem.2018.04.063.
Vilaplana, R., Pazmiño, L.; Valencia-Chamorro, S. Control of anthracnose, caused by Colletotrichum musae, on postharvest organic banana by thyme oil. Postharvest Biology and Technology, v. 138, p.56-63, 2018. https://doi.org/10.1016/j.postharvbio.2017.12.008.
Wei, Y.; Shao, X.; Wei, Y.; Feng Xu, F.; Wang, H. Effect of preharvest application of tea tree oil on strawberry fruit quality parameters and possible disease resistance mechanisms. Scientia Horticulturae, v. 241, p.18–28, 2018. https://doi.org/10.1016/j.scienta.2018.06.077.
Apontamentos
Direitos autorais 2019 Débora Monique Vitor, Hiasmyne Silva de Medeiros, Nilda de Fátima Ferreira Soares, Eber Antonio Alves Medeiros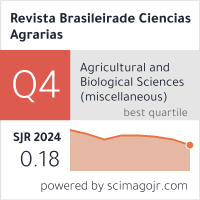 Google Scholar
2020
h5 index: 11
h5 median: 12
"Este periódico é filiado à
Revista Brasileira de Ciências Agrárias (Agrária)
ISSN (ON LINE) 1981-0997
Pró-Reitoria de Pesquisa e Pós-Graduação
Universidade Federal Rural de Pernambuco
Rua Dom Manoel de Medeiros, s/n, Dois Irmãos Recife-Pernambuco-Brasil 52171-900

Todo o conteúdo da Agrária, exceto onde está identificado, está licenciado sob uma licença Creative Commons.