Aspectos ecofisiológicos de Ocimum basilicum sob estresse salino e ácido salicílico - DOI:10.5039/agraria.v14i2a5633
Resumo
Manjericão (Ocimum basilicum L.) é uma das ervas condimentares e medicinais mais cultivadas no mundo, porém, seus processos fisiológicos podem ser afetados pela salinidade. Contudo, é uma demanda crescente a busca por estratégias que mitiguem os efeitos nocivos dos sais às plantas, e dentre estas, está o ácido salicílico. Com isso, avaliou-se o efeito mitigador do ácido salicílico na ecofisiologia do manjericão submetido ao estresse salino em dois períodos de avaliação. O delineamento utilizado de blocos casualizados, utilizando a matriz composto central de Box com cinco condutividades elétricas da água de irrigação (0,5; 1,3; 3,25; 5,2; 6,0 e dS m-1) e cinco doses de ácido salicílico (0,0; 0,29; 1,0; 1,71 e 2,0 mM), com cinco repetições. Foram avaliadas as trocas gasosas, fluorescências e índices de clorofilas aos 30 e 60 dias após a irrigação com água salina. Os dados foram avaliados por análise de variância e de regressão e por análise de correlação. A condutividade elétrica da água afetou negativamente, enquanto o ácido salicílico afetou positivamente as variáveis analisadas. A maior correlação entre as variáveis foi obtida 30 dias após o início da aplicação das águas salinas. O ácido salicílico possui efeito benéfico em plantas de manjericão até a dose de 1,0 mM.
Palavras-chave
manjericão; trocas gasosas; fotossíntese; salinidade
Referências
Angooti, F.; Nourafcan, H. Effects of application method and level of salicylic acid on some morphological characteristics of Ocimum basilicum L. leaves under sodium chloride salinity stress. Biological Forum, v. 7, n. 1, p. 346-351, 2015. http://www.researchtrend.net/bfij/bf12/ATT_1424892784512_60%20FARINAZ%20ANGOOTI%20@%20VAHIDEH.pdf. 27 Apr. 2018.
Bagherifard, A.; Bagheri, A.; Sabourifard, H.; Bagherifard, G.; Najar, M. The effect of salicylic acid on some morphological and biochemistry parameters under salt stress in herb artichoke (Cynara scolymus L.). Research Journal of Fisheries and Hydrobiology, v. 10, n. 10, p. 745-750, 2015. http://www.aensiweb.net/AENSIWEB/rjfh/rjfh/2015/June/745-750.pdf. 22 Apr. 2018.
Bekhradi, F.; Delshad, M.; Marín, A.; Luna, M. C.; Garrido, Y. Kashi, A.; Babalar, M.; Gil, M. I. Effects of salt stress on physiological and postharvest quality characteristics of different Iranian genotypes of basil. Horticulture Environment and Biotechnology, v. 56, n. 6, p. 777-785, 2015. https://doi.org/10.1007/s13580-015-1095-9.
Bosco, M. R. O.; Oliveira, A. B.; Hernandez, F. F. F.; Lacerda, C. F. Efeito do NaCl sobre o crescimento, fotossíntese e relações hídricas de plantas de berinjela. Revista Ceres, v. 56, n. 3, p. 296-302, 2009. https://www.redalyc.org/pdf/3052/305226745007.pdf. 29 Abr. 2018.
Bybordi, A. Effect of ascorbic acid and silicium on photosynthesis, antioxidant enzyme activity, and fatty acid contents in canola exposure to salt stress. Journal of Integrative Agriculture, v. 11, n. 10, p. 1610-1620, 2012. https://doi.org/10.1016/S2095-3119(12)60164-6.
El-Esawi, M. A.; Elansary, H. O.; El-shanhorey, N. A.;
Abdel-Hamid, A. M. E.; Ali, H. M.; Elshikh, M. S. Salicylic acid-regulated antioxidante mechanisms and gene expression enhance rosemary performance under saline conditions. Frontiers in Physiology, v. 8, n. 716, p. 1-14, 2017. https://doi.org/10.3389/fphys.2017.00716.
Empresa Brasileira de Pesquisa Agropecuária - Embrapa. Sistema brasileiro de classificação de solos. 4.ed. Brasília: Embrapa, 2014. 376p.
Hayat, Q.; Hayat, S.; Irfan, M.; Ahmad, A. Effect of exogenous salicylic acid under changing environment: a review. Environmental and Experimental Botany, v. 68, n. 1, p. 14-25, 2010. https://doi.org/10.1016/j.envexpbot.2009.08.005.
Hussein, M. M.; El-Faham, S. Y.; Alva, A. K. Pepper plants growth, yield, photosynthetic pigments, and total phenols as affected by foliar application of
potassium under different salinity irrigation water. Agricultural Sciences, v. 3, n. 2, p. 241-248, 2012. https://doi.org/10.4236/as.2012.32028.
Jakovljević, D. Z.; Topuzović, M. D.; Stanković, M. S.; Bojović, B. M. Changes in antioxidant enzyme activity in response to salinity-induced oxidative stress during early growth of sweet basil. Horticulture, Environment, and Biotechnology, v.8, n.3, p.240-246, 2017. https://doi.org/10.1007/s13580-017-0173-6.
Karlidag, H.; Yildirim, E.; Turan, M. Salicylic acid ameliorates the adverse effect of salt stress on strawberry. Scientia Agricola, v. 66, n. 2, p. 180-187, 2009. https://doi.org/10.1590/S0103-90162009000200006.
Mancarella, S.; Orsini, F.; Van Oosten, M. J.; Sanoubar, R.; Stanghellini, C.; Kondo, S.; Gianquinto, G.; Maggio, A. Leaf sodium accumulation facilitates salt stress adaptation and preserves photosystem functionality in salt stressed Ocimum basilicum. Environmental and Experimental Botany, v. 130, p. 162-173, 2016. https://doi.org/10.1016/j.envexpbot.2016.06.004.
Medeiros, J. F. Qualidade da água de irrigação utilizada nas propriedades assistidas pelo "GAT" nos Estados do RN, PB, CE e avaliação da salinidade dos solos. 1992. Campina Grande: Universidade Federal da Paraíba, 1992. 173p. Master's Thesis.
Melo, H. F.; Souza, E. R.; Cunha, J. C. Fluorescence of chlorophyll a and photosynthetic pigments in Atriplex nummularia under abiotic stresses. Revista Brasileira de Engenharia Agrícola e Ambiental, v. 21, n. 4, p. 232-237, 2017. https://doi.org/10.1590/1807-1929/agriambi.v21n4p232-237.
Mohammadzadeh, M.; Arouiee, H.; Neamati, S. H.; Shoor, M. Effect of Different levels of Salt Stress and Salicylic Acid on Morphological Characteristics of four Mass Native Basils (Ocimum basilcum). International Journal of Agronomy and Plant Production, v. 4, n. s, p. 3590-3596, 2013. https://profdoc.um.ac.ir/articles/a/1038136. 27 Mar. 2018.
Munns, R.; Tester, M. Mechanisms of salinity tolerance. Annual Review of Plant Biology, v. 59, p. 651-681, 2008. https://doi.org/10.1146/annuarev.arplant.59.032607.092911.
Parihar, P.; Singh, S.; Singh, R.; Singh, V. P.; Prasad, S. M. Effect of salinity stress on plants and its tolerance strategies: a review. Environmental Science and Pollution Research, v. 22, n. 6, p. 4056-4075, 2015. https://doi.org/10.1007/s11356-014-3739-1.
Parizi, M. D.; Kalantari, K. M.; Enteshari, S.; Baghizadeh, A. Effect of salicylic acid and salt stress on Na and K content in Ocimum basilicum L. Iranian Journal of Plant Physiology, v. 1, n. 3, p. 135-139, 2011. http://iau-saveh.ac.ir/Files/Journal/2011-12-25_01.28.26_1.pdf. 27 Apr. 2018.
R Core Team. R: A language and environment for statistical computing. Vienna: R Foundation for Statistical Computing, 2017. https://www.R-project.org. 19 Mar. 2018.
Shekoofeh, E.; Sepideh, H.; Roya, R. Role of mycorrhizal fungi and salicylic acid in salinity tolerance of Ocimum basilicum resistance to salinity. African Journal of Biotechnology, v. 11, n. 9, p. 2223-2235, 2012. https://doi.org/10.5897/AJB11.1672.
Tarchoune, I.; Sgherri, C.; Iz, R.; Lachaâl, M.; Navari-Izzo, F.; Ouerghi, Z. Changes in the antioxidative systems of Ocimum basilicum L. (cv. Fine) under different sodium salts. Acta Physiologiae Plantarum, v. 34, n. 5, p. 1873-1881, 2012. https://doi.org/10.1007/s11738-012-0985-z.
Apontamentos
Direitos autorais 2019 Toshik Iarley da Silva, Anderson Carlos de Melo Gonçalves, José Sebastião de Melo Filho, William Santana Alves, Ana Gabriela de Sousa Basilio, Francisco Romário Andrade Figueiredo, Arie Fitzgerald Blank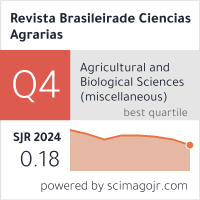 Google Scholar
2020
h5 index: 11
h5 median: 12
"Este periódico é filiado à
Revista Brasileira de Ciências Agrárias (Agrária)
ISSN (ON LINE) 1981-0997
Pró-Reitoria de Pesquisa e Pós-Graduação
Universidade Federal Rural de Pernambuco
Rua Dom Manoel de Medeiros, s/n, Dois Irmãos Recife-Pernambuco-Brasil 52171-900

Todo o conteúdo da Agrária, exceto onde está identificado, está licenciado sob uma licença Creative Commons.